Personalized Luggage Straps and Personalized Golf Bag Tags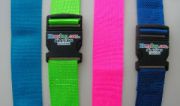 Attractive and distinctive personlized luggage straps for your luggage and personalized tags for your golf bags
Luggage strap - normal Shipping: Total shipping for 1-6 items $6.95; Total shipping for 7-12 items Free! (USPS with Delivery Confirmation) to any USA location. You can view specific options/shipping fees before Order – Check Out. More than 99% of our USA personalized luggage strap customers have received their order within 1-10 working days. If you have further questions contact us at Contact IDmyBag.com®
Luggage Straps
Starting at $16.95 + 6.95 shipping
---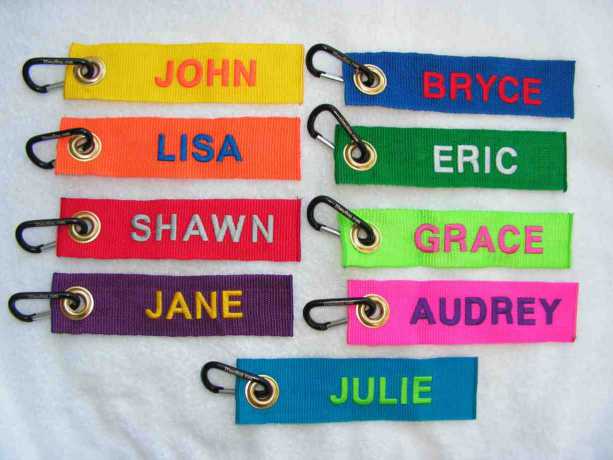 Golf Bag Tags
Order 2 inch wide tag.
Starting at $16.95 + 6.95 shipping
---
IDmyBag Shipping Options:
IDmyBag.com® Personalized Luggage Straps normally ship within 3 to 5 days of order receipt. Experience suggests the most economical, reliable and dependable shipping service is with the USPS (United States Postal Service). Our shipping prices are based upon USPS delivery. All shipping options provide USPS Delivery Confirmation. IDmyBag.com only provides Tracking with the Express - RUSH choice.
Normal Shipping:1-3 Straps/Tags $6.95; 7 or more straps/tags FREE (USPS with Delivery Confirmation) to any USA location. More than 99% of our USA customers have received their order within 1-10 working days.
USPS Domestic Priority: Priority Orders to USA (48 states) will assure you receive your straps within 5-7 working days of order placement. This service provides USPS Delivery Confirmation - No Tracking. More than 99% of our customers (USA - 48 states) have received their order within 5 working days.
UPS Global Priority (outside the USA) -- USPS states an average of 6 - 10 business day delivery service. International shipments must clear customs & fees may be due. Make sure you check this page è Exceptions for International shipments are listed on this USPS Webpage: http://www.usps.com/international/serviceupdates.htm. More than 96% of our customers receive their order within 1-10 working days. This service only provides Delivery Confirmation - No Tracking. You must choose USPS Express with RUSH service to receive order tracking.
Optional $40- RUSH choice -- This is available for rush orders to be shipped next working day. The order must be received by 12 noon USA mountain time, the day prior to the ship date (excluding USA holidays* and weekends). The RUSH choice is added to the order's selected Shipping & Handling charges
USPS Express with RUSH choice is the only USPS service that provides tracking. USPS International Express Inquiry Center 800-222-1811
IDmyBag.com provides, orders to the shipper (USPS, UPS FedEX, etc.) in the designated time from receipt of each order. Shipper Tracking will note the day/time received. Once the order is given to the shipper, IDmyBag.com no longer has control of the order or delivery. Occasionally, orders shipped outside the USA will be delayed at the receiving country customs/shipper. Should a delivery be delayed, the best option is to contact the receiving country customs/shipper, with the tracking information we provide. More than 95% of our orders are deliverd within the expected time.
* Web search USPS Holidays for definition of USA (non-working days) Holidays for this year.