Q: How many names can I have on the strap?
A: We embroider the name in one spot (11 inch embroider area) near the buckle – –

. . .
-- but if the name is short we can repeat it in the 11" (30 character limit) space. The 30 character limit is designed for a couple of reasons: Because the circumference of bags vary and the straps are adjustable, names printed in more than one, 11" spot can interfere with the adjustment on the straps and the name would wrap around underneath the strap causing the name to be on the bottom of the strap, next to the bag and unreadable. Another issue with having the embroidery in a longer space than 11", is the strap will lose flexibility and tend to bind preventing the strap from laying flat on the bag as it is cinched up with the adjustable buckle. An alternative some have chosen is to buy the non-personalized IDmyBag straps and have them silk screened locally. At one time we wove the name multiple times into the fabric. However to do this the fabric had to be very thin. This method was not practical because the thin strap was not rugged enough, too flexible and would twist around itself.
Q: What about the number of characters on Tags?
In order to keep the Tags most usable, lengthy names (those over 12 characters) look best when they are stacked. JESSE IDmyBag.com would become: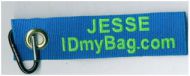 Stacking can also apply with Straps. Our production department will determine if stacking would be most appropriate.
Q: What are the text / thread colors are available? How many names can I have on the strap?
When you order the straps, and choose the quantity and name you wish embroidered, you must also choose the text / thread color. These text / thread colors are presented for your choice: Rich Green, Real Red, Screaming Yellow, Royal Purple, Vibrant Orange, Ultra Aqua, Neon Green, Shocking Hot Neon Pink, Pacific Blue, White, Black, Gold and Silver. We only list those colors that will contrast with the strap selection. We can accommodate other colors at additional charge.
Q: How do I clean my IDmyBag.com Luggage straps?
Washing your IDmyBag.com luggage straps is easy. Simply shorten the strap all the way and push the buckle together to the closed position. If necessary, use a spot cleaner like SPRAY-n-WASH® on stains. Place the strap in a small mesh laundry bag and toss into the washer with other similar colored clothing, and set on cold water, and a light to medium cycle. When finished hang up to air dry.
Q: What are the characters (letters, numbers, etc.) that can be embroidered on the straps?
You can place up to 30 characters on each strap. Name will be placed in 11 inch span. Acceptable characters for luggage strap personalization include: A through Z (upper and lower case), numbers 0-9, and ( ! @ ? ; : - ~ . , ' and / # = ) " " Other characters, graphics, logos, etc. are available at additional cost. We do not embroider/print the following on the straps or tags: inappropriate graphics, swastika(s), or profanity – specifically George Carlin's seven dirty words (if you don't know these, do an internet search). contact us at Contact IDmyBag.com®
Q:Do you offer luggage straps with TSA (USA Transportation Security Administration) approved Locks on the buckles?
At one time we did offer TSA locking buckles. We no longer offer the straps with TSA locks because of the problems our customers had clearing security; and the difficulty they had with check in and baggage claims at the airports. In addition, the straps were being cut by TSA & baggage personnel. We encountered other problems when customers forgot their combinations to their locks and/or lost their keys to the locking buckles. As a result we have discontinued offering straps with TSA locks & our customer satisfaction has greatly improved.
Q: Can we have some straps designed specifically for our use?
Yes we do offer many options for IDmyBag luggage straps including logos embroidered on the luggage straps or printed on the buckles (see Samples Page). If you need your logo embroidered, you need to email us a digitized graphic file (i. e. *.DST) we will use. If you do not have a *.DST digitized graphic file, you will need to email the logo as a *.tif, *.eps or large high quality *.jpg file. We can then produce the *.DST file for an additional charge. Email us at cs@IDmyBag.com.
Q: The size of my bag may be too small or too large for the straps. Do you have longer or shorter straps?
The universal straps are adjustable and may be lengthened or shortened with the adjustable slide. This enables you to snug-up the strap around the bag. You can also wrap the strap around a couple of times to snug it up as in use with ski or golf travel bags. If the bag is very large, you can snap 2 straps together for an extension and make the adjustment. When you place the order if you do not put personalization on the strap, the cost is only $9.95 each