Personalized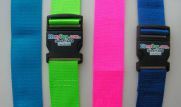 Personalize your luggage straps. The luggage straps are machine embroidered with your name to help you find your luggage quickly. Locate your luggage fast on the baggage carousel. Enjoy your traveling sooner. Each heavy duty strap snaps together with a durable quick release buckle. The 2" wide adjustable length straps are rugged yet attactive.The universal straps are adjustable and may be lengthened or shortened with the adjustable slide. Place up to 30 characters on each strap. Characters will be placed in 11 inch span. Acceptable characters include A through Z (upper and lower case), numbers 0-9, and ( ! @ ? ; : - ~ . , ' and / # = )
About Us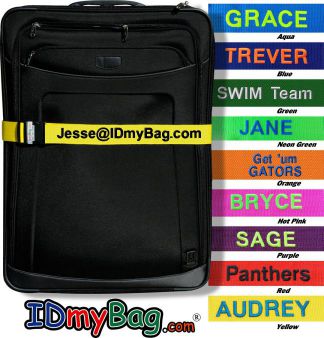 Selling personalized luggage straps online since 2005. IDmyBag.com® is a registered trade name officially on file with the Colorado Secretary of State. A patent is pending on the personalized luggage straps with the US Patent Office. In April, 2009, the trademark name IDmyBag.com® was approved as a registered trade name with the US Trademark Office.
Discover
Get your Luggage Faster
The IDmyBag.com® TV commercial
.